When
10/14/2023
8:00 pm - 10:00 pm
Where
Woburn Racquet Club
Details
 Come and knock on our door….
Come celebrate the first Tennis4All doubles social of the season. It's Halloween time, but what's better than dressing up as Mrs. Roper, one of the icons of the late 70's kitchy TV show, Three's Company! For those of you who don't know-
Mrs. Roper was fabulous
, lounging around in her trademark kaftans and constantly being disappointed by her curmudgeon husband, Stanley.
Costumes encouraged! Get your curly wig and kaftan on, favorite 70's themed outfit, or any costume at all–or just show up and watch the fun!
We will have tennis, dinner & drinks, and a runway show. All levels of play are welcome.
.
 We'll be waiting for you….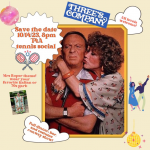 Member price: $30
Guest price: $45
NON-MEMBERS: Consider becoming a member for just $35!  Sign up here.
MEMBERS: You must log in to see the discounted rate.
By signing up for this event you agree to the terms (including Waiver and Release) on our Terms of Service page.
Registration
Participants
Booked spaces: 2
Available spaces: 38